Pig iron producers sign zero deforestation pledge after Greenpeace campaign
Pig iron producers in the Brazilian state of Maranhão today pledged to stop using charcoal produced from Amazon rainforest logging, reports Greenpeace, which had wageda zero deforestation campaign targeting foreign automakers[PDF] that buy steel from the industry.

Greenpeace says the agreement commits pig iron producers to "eliminate Amazon deforestation from their supply chain and implement a monitoring system of charcoal used in their production processes."

"This agreement by the industry is an important step forward for the protection of the Amazon and its people," said Paulo Adario, Amazon Campaign Director of Greenpeace Brazil. "Strict criteria for how the charcoal is sourced will help ensure a pig iron supply chain free of deforestation, slavery and fraud."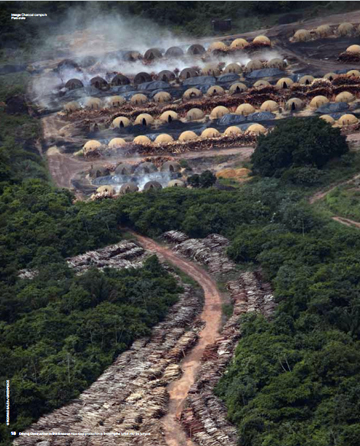 Charcoal camps in Pará state. © RODRIGO BALÉIA / GREENPEACEGreenpeace says that the agreement moves Brazil a step closer to ending deforestation in the Amazon. The activist group has won similar concessions from the soy industry (2006) and major cattle processors (2009) following market campaigns.

Greenpeace is pushing for a "zero deforestation" law for the Brazilian Amazon and has persuaded some 400,000 Brazilians to sign a petition in favor of the measure.

Brazil has one of the world's highest rates of forest loss, butannual clearing has declined nearly 80 percent in the Amazon since 2004. The reduction coincided with a period of strong economic growth. Environmentalists argue the trend shows that Brazil can grow its economy without the need to clear additional forest. The country is said to have more than 100 million hectares of degraded and underutilized cattle pasture that is suitable for agricultural expansion.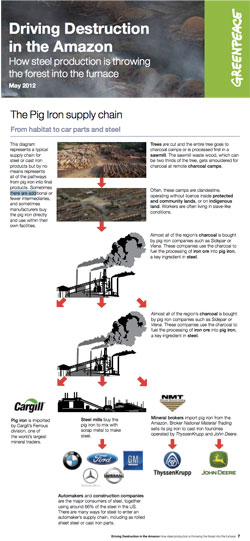 Click to enlarge


mongabay.com 
August 02, 2012


Read more:http://news.mongabay.com/2012/0802-greenpeace-pig-rion.html#ixzz22gz2E6VY
dom72 reblogged this from www-outerspacepi
dom72 likes this
www-outerspacepi posted this